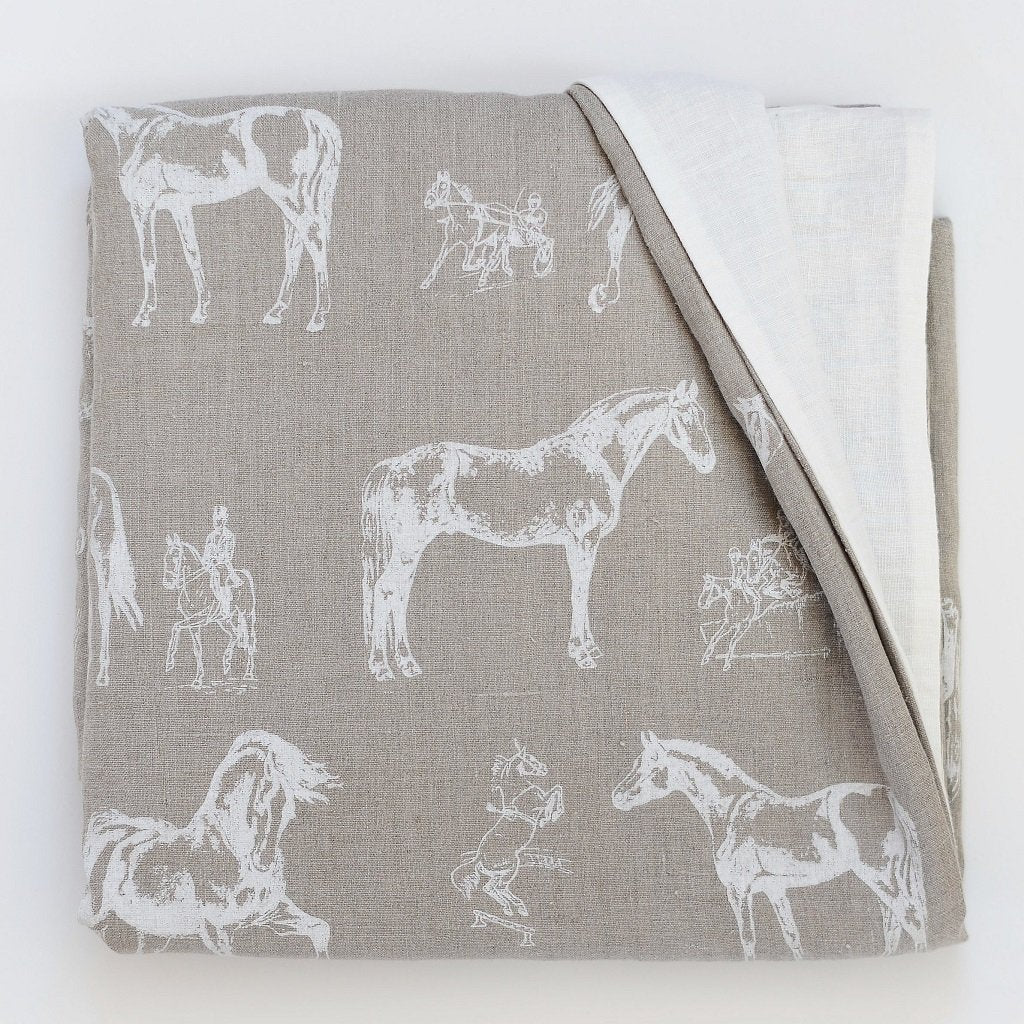 Soft Linen Duvet Covers Horses
€99.00
Duvet cover from softened linen will give your bedroom a special feeling that brings you closer to the nature. It is not only environmentally friendly, but also antiallergic, antibacterial and antistatic. Our 100% linen bedding collection has high air permeability and excellent thermal conductivity properties. When it's cold, linen warms you up, but when it's hot, it cools you down, which lets you enjoy healthy and undisturbed sleep.
Thanks to the special softening technology, linen is particularly soft and pleasant for the skin. The fabric has a slight creasing effect and does not need ironing. The duvet cover has zipper closure.

Why choose linen material for your bed?
Linen has many advantages comparing to synthetic materials and cotton:
Durability - Cotton often starts show signs of wear after 3 or 4 years. Linen products after 3 years only really starts to shine. If cared properly linen products can lasts for decades and often be given to the next generations. Linen will be great long term investment for your family.

Breathable- Linen is more breathable than cotton and also absorbs moisture better therefore it will be feel better for your skin.

Cools you down - Linen will be great for hot sleepers and summer nights as linen chills you when it is hot and warms you when it is cold.

Nature friendly- Linen is very friendly for nature as in linen production far less chemicals and water is used
Antiallergic- Linen is anti allergic material.

Stronger fibers - Linen fibers is 3-4 times longer than cotton and linen products hold form longer.

Why choose our products?
Premium quality linen form Europe - We use only European linen which historically has higher quality and traditions

Denser fabric - This means that products will be more durable and also more suitable for winter as will be warmer

100% linen- We use pure linen with no additional fabrics

Softened- We use special softening technology to make linen more gentle for your skin.

Made in Europe- We make all products in Latvia, Europe. This insures European quality standards but with less costs.

Linen is considered luxury fabric becaouse it involves much manual labor to produce it, but we think that it is worth to invest in great quality bed linen, becaouse they will last much longer if cared properly. Linen makes great long term investment.

We spend 1/3 of our lives in bed, so healthy sleep is crucial for your health and well being. We make pride that we help people to make their sleep better with our products.

CUSTOMIZE YOUR BED LINEN SET

Select pillowcases here: https://www.linenroomlatvia.com/lv/collections/gultas-vela/products/soft-linen-pillowcase
Select duvet cover here: https://www.linenroomlatvia.com/lv/collections/gultas-vela/products/bed-sheet
For limited time we offer 10% discount if you buy bed linen for at least 180 EUR. Just apply cupon code whn you check out. Cupon Code: LINAVELA
* We do not offer fitted sheets in our shop jet but we can make individual order if you wish. Please write to info@linenroomlatvia.com and we will make individual order for you.

** Duvet and pillow is not included

Did not find your size? Please write to info@linenroomlatvia.com and we will make individual size for you.
Material
100% linen

Linen Care

Handmade in Latvia