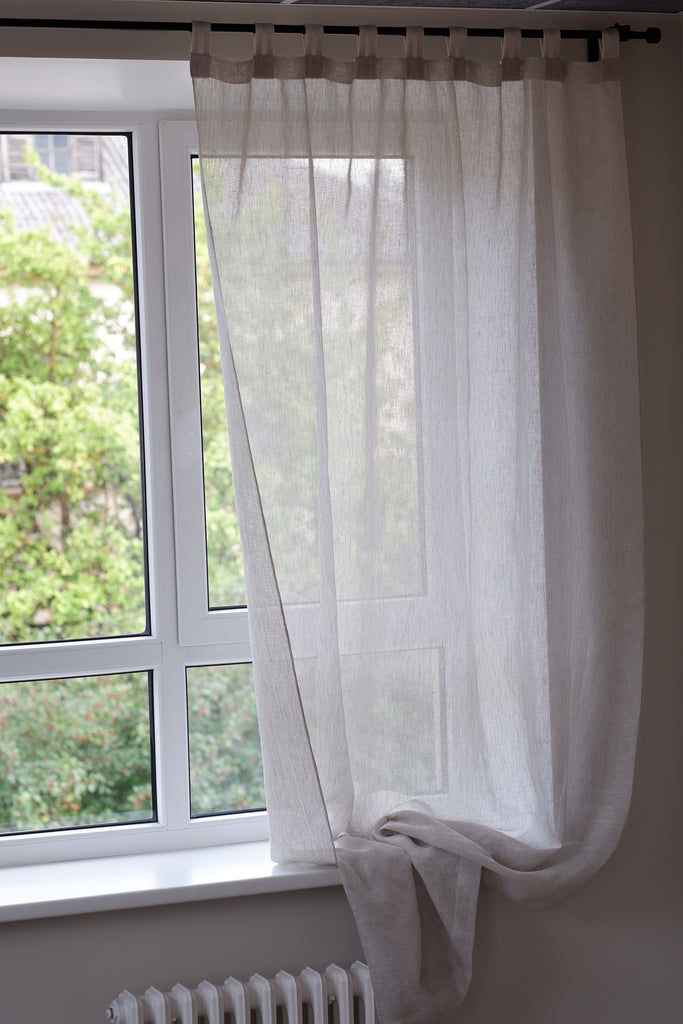 Tab Top Classic sheer linen curtain panel
€85.00
The light sheer curtain is individual handwork with its unique character. The linen fabric is woven and finished as the curtain in Latvia. The Curtains can be a perfect finishing touch to any interior and will always create a feeling of home.
Heading type: tabs

Width: 160 cm is the maximum possible width.
Length: Custom, measured including tabs which are 7 cm (2.75 in) long. The total length of 250 cm is the length of the base of the curtain 243 cm + tabs 7cm. The length (243 cm + 7 cm tabs) is for standard purchase on the internet, but you can order the length suitable for you.

Individual orders: please write to info@linenroomlatvia.com or WhatsApp (+371 29223459).
Price: The price is for one tab top linen curtain
Color: milk white; warm grey (mix of natural linen and milk white color yarn; looks more natural with a tint of beige); natural linen (uncolored natural linen yarn; this color looks good in log buildings and rustic design); bluish grey (mix of natural linen and anthracite color yarn). The curtain seen in the photos is in grey & white color (warm grey).

Shrinkage: Possible shrinkage after washing (30C; wool program; centrifuge speed max. 800; that is also our recommendation for washing) is 1,65%. You can buy longer curtains taking into account shrinkage reserve. If you don't want curtains laying on the floor, we can sew a light seam for a shrinkage reserve that you can easily unpick before washing. Just let us know.
Material: 100% European linen
Fabric Care
Linen products require more gentle care. Using our recommendations (see Fabric Care) and using detergents suitable for natural materials you will let your linen product look better and last longer.
Handmade in Latvia